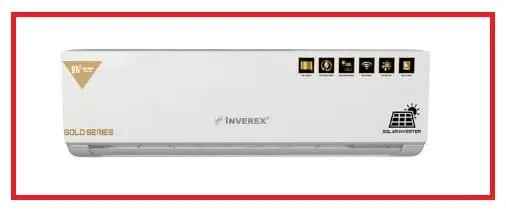 Price in Pakistan: Rs. 94,800
Ton
1
BTU
12000BTU
Type
DC Inverter
Heating
Yes
---
Advertisement
---
Inverex Solar AC 1 Ton Inverter Summary:
This Inverex solar AC 1 Ton has a built-in MPPT inverter and is available in Pakistan at the best price. This is a full DC inverter model and you can attach this Inverex inverter AC direct to your solar panels. Its latest price in Pakistan 2023 is 94,800.
This gold series DC inverter model requires a minimum of 4 solar panels of 330 wattages. You can attach these solar panels in a series connection. You also need to attach this air conditioner with grid power. This unit shares electricity from the grid if solar panels are not producing enough power to run the Inverex 1 Ton Hybrid inverter AC.
This latest model saves energy up to 80% and you can also check the real-time performance from the mobile application. You cannot attach the batteries to this AC model. You have to attach it directly from the solar panel cables.
It is a smart AC and auto shifts to WAPDA when solar energy is not available. Inverex 1 Ton inverter motor is of pure DC and saves electricity bills. You can set the temperature range between 16°C to 32°C.
The kit is made of 100% copper and you can attach grid power of 220 to 240 volts. The user manual with all instructions is written on it available with the packing of AC.
You can download the specifications in PDF format.
Inverex Solar AC 1 Ton Wattage Consumption:
Inverex solar AC 1 ton consumes electricity of 190 to 1240 watts and this is a rated input power for cooling. The rated input power of heating is 150 to 1700 watts.
1 Ton Air Conditioner Ampere Consumption:
The rated electricity consumption for cooling in amperes is 1 to 5.5 amperes.
---
Check Also: Inverex 1.5 Ton Solar AC,  Inverex 3.2KW Hybrid Inverter
---
Main Features:
Works directly with Solar Panel
Built-in MPPT
Cooling and Heating
Full DC Inverter
All motors are BLDC
Real time-sharing
Wifi Control
100% copper
80% Energy Saving
T3 Compressor
Can work at 55°C
Low Watts Consumption
5 years warranty
---
Advertisement
Inverex Solar AC 1 Ton Price in Pakistan 2023 & DC Inverter Specifications
Brand
Inverex
Type
DC Inverter (Full DC)
Capacity
1 Ton
BTU
12000
Cooling
Yes
Heating
Yes
Compressor
T3
Compressor Type
Rotary Inverter
Compressor can work at
55°C
EER (Energy Efficient Ratio)
3.6
Turbo cooling
Yes
Electricity saving
up to 80%
Wifi Monitoring

Yes
Compatible with solar
Yes
Compatible with electricity
Yes
Real time-sharing
Yes
Ideal room size
up to 130 Square Foot
Pipe
100% copper
MPPT charge controller
built-in
Solar Panel required
4 to 6 plates (330 watts)
AC Input Voltage
220V-240V
Frequency
50-60Hz
Temperature Range Cooling
16°C~32°C
Works without Grid
No
Compressor Manufacturer

GMCC
MPPT DC Input

80-380 VDC
MPPT DC Input
12 Ampere
Low DC Watts Operation

Yes
Monitoring Application Name
SOLAR AIRCON
Weight
—
Dimensions
—
Colour
White
Input Wattage:
Rated input wattage (Cooling)

940 (190-1270) watts
Rated input wattage (Heating)
1170 (150-1700) watts
More Info:
Price in Pakistan
Rs. 94,800
Warranty
5 Years
Disclaimer: Dear visitors, We did our best but we cannot guarantee that the Specs/Price on this page is 100% correct (Human error is possible). For correct info. always visit the nearest local shop.
This price is valid in all cities of Pakistan including Karachi, Lahore, Islamabad, Faisalabad, Multan, Rawalpindi, Hyderabad, Gujranwala, Bahawalpur, Peshawar, Sargodha, Sialkot, Jacobabad, Quetta.
You can buy online in Pakistan and also from local shops in different cities in Pakistan. You can also avail the options of Cash on Delivery (COD) of this product from different online stores.
How solar AC works:
The solar AC works directly with a solar panel. You have to connect the two cables directly from the panels with the air conditioner.
In the package:
| | |
| --- | --- |
| Description | Quantity |
| Indoor unit | 1 |
| Outdoor unit | 1 |
| Remote control | 1 |
| Pipe | 2 |
| Indoor AC Backplate | 1 |
| User Manual | 1 |
| Warranty Card | 1 |
Inverex Solar AC Wifi Connectivity:
You can monitor the AC and checks the different parameters from the mobile phone application. The application name is "SOLAR AIRCON". You can download and install this Inverex AC application from the Apple store and google play store. You can also check the real-time usage of wattage/Ampere.
Inverex AC Compressor:
The compressor of this solar ac is manufactured by GMCC brand and this is a T3 compressor. That is why it provides super cooling even at 55°C temperature and the compressor is of the rotary type.
AC Warranty:
The company provides a warranty of 5 years with some terms and conditions. You can claim the warranty from the different Inverex distributors across Pakistan.
Inverex Solar AC Remote Control:
The remote control of this air conditioner is almost like the other remote of different air conditioners. It has different buttons:
Power On/OFF
Temperature Range Button 16°C~32°C
Dedicated Button of 26°C
Heat
Turbo
Swing Control
Fan
Timer
Clock
Sleep
Specifications via the image:
You can read the technical specs/Datasheet of this air conditioner by reading from this image.

Inverex Solar AC Models List with Price:
FAQ: