Exide is a lead-acid battery manufacturing company in a Pakistan. They are making batteries of different capacities and these batteries are available from Exide dealers in almost all cities in Pakistan including Karachi, Lahore, Faisalabad, Rawalpindi, Peshawar. Below you can find Exide Battery Price list 2018 with detailed specifications and tips for prolonging battery life.
Exide battery comes with 6 Months of warranty. You can use Exide battery with UPS, Solar System, Vehicles including Cars, Jeeps, Buses, Truck, Tractors, Generators, and other types of machinery.
Exide Battery Price in Pakistan 2018, Price list, Models, info.
Click on your required battery for the detailed info.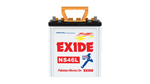 Exide Battery NS46L – Plate 9
Rs. 4,000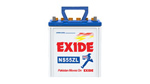 Exide NS55ZL Battery – Plate 11
Rs. 4,500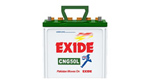 Exide CNG50L Battery – Plate 9
Rs. 4,600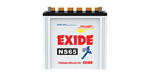 CNG 65L – Plate 11
Rs. 4,800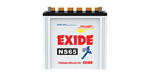 NS 65 – Plate 13
Rs. 4,800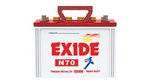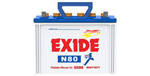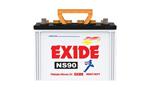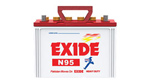 N95 Battery – Plate 11
Rs. 7,000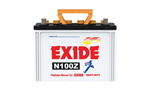 N100Z – Plate 13
Rs. 7,800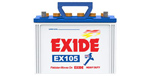 EX105 – Plate 15
Rs. 8,000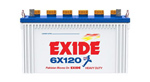 6X120 – Plate 15
Rs. 9,000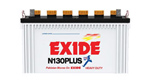 N130 Plus – Plate 17
Rs. 9,500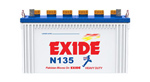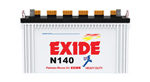 N140 – Plate 19
Rs. 10,000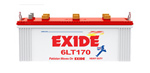 Exide 6LT170 – Plate 23
Rs. 12,400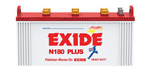 N180 Plus – Plate 21
Rs. 12,800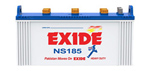 NS185 – Plate 27
Rs. 14,000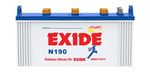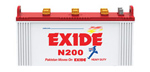 N200 – Plate 23
Rs. 14,200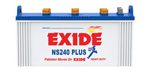 NS 240 Plus – Plate 27
Rs. 18,000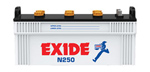 Exide N250 – Plate 33
Rs. 22,000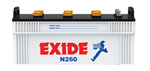 Exide N260 Battery – Plate 33
Rs. 24,000
Some Important Tips for Purchasing New Battery and Prolong Performace & Life:
Always purchase a newly manufactured lead-acid battery. (You can check manufactured date written on the warranty Card.)
After putting the electrolyte in it, leave it for at least 40 minutes.
Charge it, till it reaches to 15 Volts.
Close and tight all the caps.
Use only high-quality terminal.
Tips for Battery with UPS (Inverter):
Place it above the ground. (You can use wood base, etc)
Keep it near the window. (During charging, especially in an over-charging lead-acid battery produce gas. This gas is not good for the health. Thatswhy you should place the battery, where air ventilation is available. )
Use only High-grade terminal and wire for connection with the inverter.
Do not charge with higher current, otherwise, the battery temperature rises and it will damage to the cells.
The electrolyte level comes down, it must be filled with distilled water. The electrolyte should not be increased the above line marked otherwise after some time its cap sealed get softer and in the resulting leakage of electrolyte.
Keep it dry and clean.
Terminal should be clean.
After some time, white powdery corrosion occurs around the terminal. You can clean this by pouring the hot water on it.
Do not keep it idle for more than 3 Days.
Use the only inverter manufactured by a reputed company.
Exide Dealers & Distributor in Pakistan
Exide Battery Contact Office & Factory:
A-44, Hill Street, Off Manghopir Road,
S.I.T.E, Karachi.
Ph: +92 21 32593371-85
Fax: +92 21 32561679 – 32573575
Exide Website: exide.com.pk
Disclaimer: We tried our best, but we cannot guarantee that the Price & other info. of products on this page is 100% correct (Human error is possible). For correct Specs & Price always visit the nearest local shop. We (PriceCity.com.PK) does not sell any product. We only provide specifications, features, and price in Pakistan of different products from different stores around Pakistan.
Tags: Exide battery price in Pakistan 2018, Exide battery dealers, Exide price list, Exide battery price in Karachi 2018, Exide battery price in Lahore.