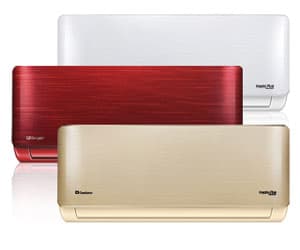 Dawlance is a home appliances manufacturer in Pakistan with more than 4000 employees. One of its product is Air Conditioners (AC). Dawlance AC latest models 2019 and previous consist of different capacity of Split and Floor standing AC 1, 1.5, 2, 4 Ton and more. This brand Air Conditioners price in Pakistan starts from 40,000.
Dawlance AC has different models naming are Energy Saver, Inspire Plus Inverter Series, Signature Series, Proactive, Inspire Plus, Monogram SL, LVS, Health Zone, Floor Standing. These DC inverter models are best solution for saving electricity because it consumes less power than traditional or other simple models. Its inverter models series work well with Solar panels and Generators. Some models are also capable of heating in winters.
Below you can find Dawlance AC Price list 2019 with pictures and specifications in detail.

Dawlance AC Price Pakistan 2019, 1, 1.5, 2, Ton DC Heating, Cooling and Latest Models
Dawlance 1 Ton Inspire Plus 15 Split AC
Rs. 41,000
1 Ton LVS-15 AC
Rs. 32,000
1 Ton Signature 15 AC
Rs. 31,000
1.5 Ton Energy Saver 15 AC
Rs. 52,000
1.5 Ton Energy Saver 30 AC
Rs. 41,000
Dawlance 1.5 Ton Inspire Plus 30 AC
Rs. 42,000
1.5 Ton Inspire Plus 30 AC
Rs. 51,000
1.5 Ton LVS-30 AC
Rs. 40,000
1.5 Ton Monogram SL-30 AC
Rs. 41,000
1.5 Ton Signature-30 AC
Rs. 42,000
Monogram SL-45 Split AC
Rs. 56,000
FS-90 Floor Standing AC
Rs. 120,000
You can save energy up to 60% with Inverter ACs with continuous cooling at home and/or office. 1 Ton AC is enough for room size 125sqft to 150sqft and 1.5 TON AC 140sqft to 225sqft.
These Air Conditioners comes with Three years compressor and 1-year parts warranty. You can repair or claim parts from different after sales customer service centers of Dawlance. You can buy these Air Conditioners in Pakistan from different online stores, local shops or from its dealers around Pakistan. Each AC comes with the inner unit, outer unit, Remote control, Tape, pipe, and Manual.
These air conditioners price is valid in all cities of Pakistan including Karachi, Lahore, Islamabad, Faisalabad, Multan, Rawalpindi, Hyderabad, Gujranwala, Bahawalpur, Peshawar, Quetta, Gilgit.
Note: We tried our best, but we cannot guarantee that the Price & other info. of ACs on this page is 100% correct (Human error is possible). For correct Specs & Price always visit the nearest local shop.
You can also check:
Haier AC
Orient AC
GREE AC
Panasonic AC
Mitsubishi AC
LG AC
Sharp AC
Changhong Rub AC